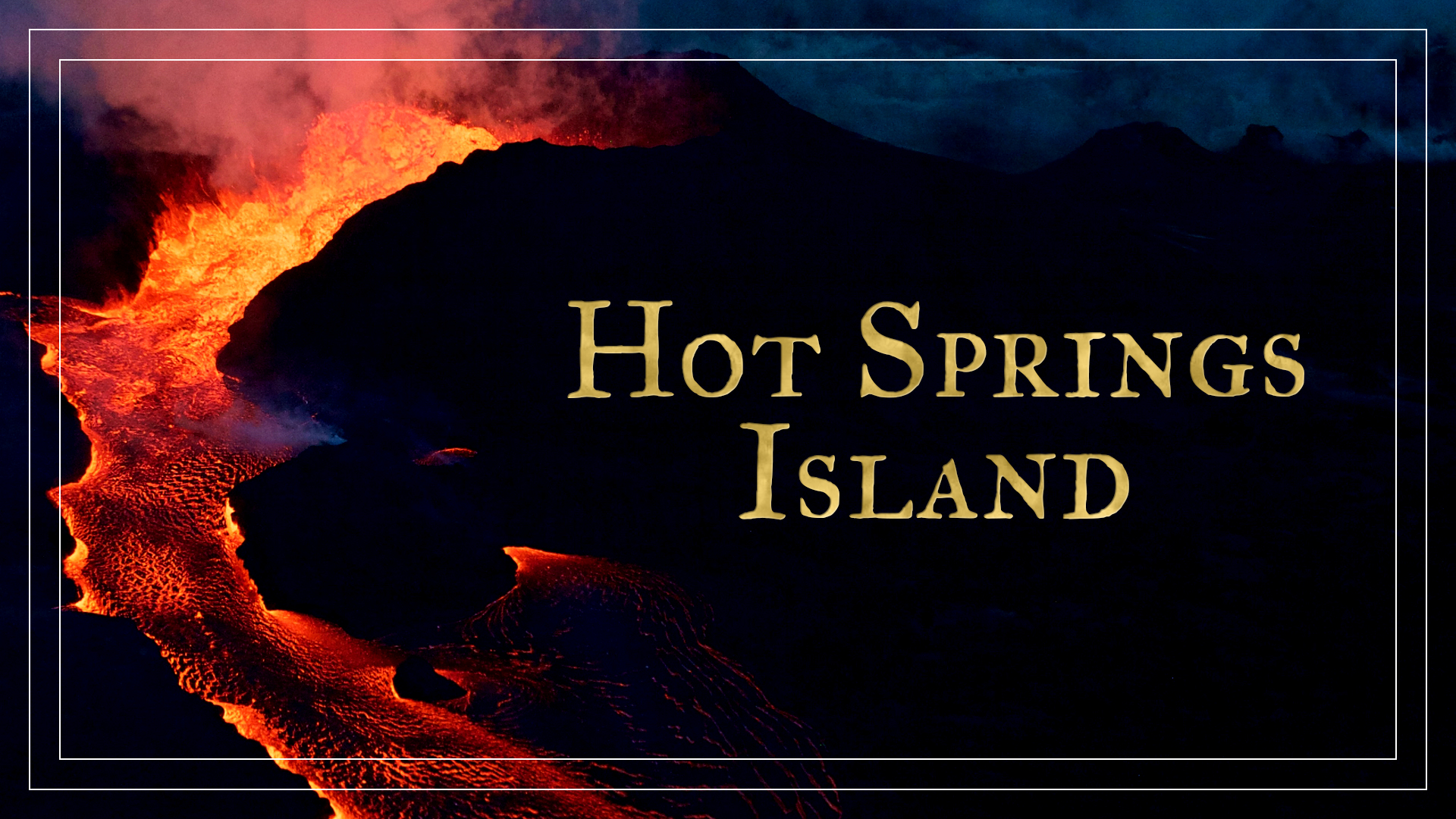 Hot Springs Island - COMPLETE (TTRPG)
Check out a 20 page sample of The Dark of Hot Springs Island.
Check out a 30 page sample of A Field Guide to Hot Springs Island.

Hot Springs Island is a high fantasy sandbox adventure setting that can be used with any table top role playing game. It's comprised of two books: One for players and one for the game master.

The Dark of Hot Springs Island is the game master's book. It is a fully illustrated 192 page book. Hot Springs Island is a hexcrawl, and the Dark contains all the details needed to run a sandbox game there. There are 75 locations on the island, and 26 maps ranging from ogre villages to a ruined elven city to the volcanic lair of a vain efreet. Seven factions, 87 interconnected non-player characters and 300 problematic treasures are sure to generate plenty of lingering repercussions each time your players make a decision. Finally, 448 random events and encounter motivations help ensure that every play-through of Hot Springs Island can explode into wildly different outcomes from the same basic parameters.

The setting is system neutral, so there are no stats for monsters or prepackaged treasure parcels. No levels are assumed, and there is no path of advancement through this tropical wilderness. The monsters will likely be tough, and the intelligent factions even tougher, but the motivations for (and thus potential leverage against) everything with a modicum of intelligence has been detailed. Combat is expected to be approached like war, and not a perfectly balanced arena skirmish. Crack the mountains. Flood the dungeons, and burn everything to survive.

In the event that stats are an absolute must, most all monsters found on the island can already be found in the monster books you own for your system (e.g., efreet, salamanders, ogres, nereids, imps, elementals, etc). If they are not found there, the size and diet has been provided so you can sub in the stats of a "medium sized carnivore" or "large herbivore" as necessary. Finally, there are a few creatures of such size, age, and power that they'd likely be considered demi-gods. For these individuals it will be necessary to spend some time prepping their particulars, but there should be plenty of ramp up time before they make an appearance on the island.
There is also a nice community of fan made resources (e.g., monster stats and automatic table rollers) that can be found on Google Plus.
----------------------------------------------------------------------------------

A Field Guide to Hot Springs Island is the player oriented companion book to The Dark. It is written "in-character" and can be used by characters in the game world to help identify plants and monsters, translate ancient languages, and as a resource of advice and rumors.

240 pages. Fully illustrated. Contains 2 short stories, entries for 24 different magical and mundane plants, 34 monsters native to Hot Springs Island, and details about the 6 factions that can be found there.

----------------------------------------------------------------------------------

If you'd like to hear what other people have to say about Hot Springs Island, check out this awesome review by Questing Beast!
Purchase
In order to download this game you must purchase it at or above the minimum price of $20 USD. You will get access to the following files:
The Dark of Hot Springs Island
29 MB
A Field Guide to Hot Springs Island
16 MB
Download demo
Comments
Log in with itch.io to leave a comment.
The savage natives kidnapping women to impregnate them plot is bad.
So there is only ONE bad plot in the whole book? Seems like a good deal then. You just sold me on it!
Hi @runcibleshaw!

My interpretation of your statement is that you're talking about the Night Axe Ogres. As they're an extra-planar race constructed specifically to be slaves the "savage natives" line kinda throws me.

However, if you are indeed speaking of the Night Axe, yes, their situation is exceptionally awful and dire. I really look forward to hearing the solutions your players come up with to get them out of the bind in which they find themselves.
All the best!

-Jacob